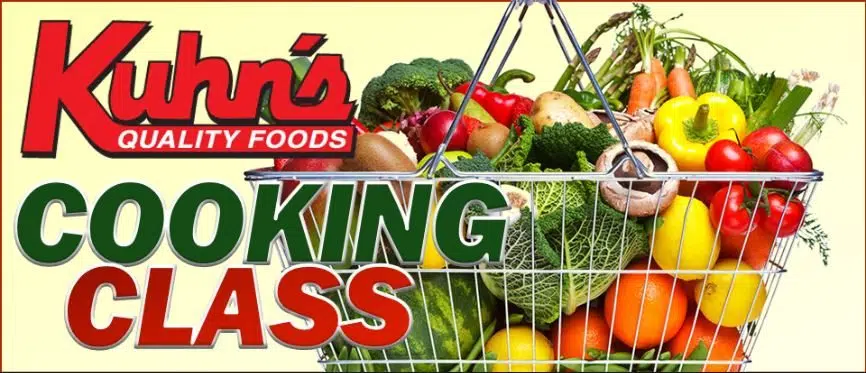 June 2017
Sign up for the NEW Kuhn's Rewards Card today!
Earn points with purchases ● Redeem for discounts ● Special E-Offers ● Continuities and Clubs ● Special In-Ad Offers
Earn 1 point for every dollar spent
Reach the level you prefer and redeem points on your next shopping trip
350 points for $10.00 off your next order
800 points for $25.00 off your next order
1,500 points for $50.00 off your next order
_____________________________________________________________________________________________________________________________________________________________
June is National Fruits and Vegetables Month!
Source: http://bit.ly/2pTxs16
Fruits and vegetables are the best way to beat the summer heat! June is National Fruits and Vegetables Month and Kuhn's Market wants to help you create your perfect meals or beverages! Fruits and vegetables aren't something kids just turn their nose up to anymore! You can make anything with just fruits and vegetables that everyone in the family will love! Check out these amazing recipes and get all your delicious ingredients at your local Kuhn's Market.
5 Fun Facts About Fruits and Vegetables
Source: http://bit.ly/VYgIlT
1.) Broccoli contains more protein than steak
2.) Apples give you more energy than coffee
3.) Watermelons can keep you hydrated
4.) Peppers can encourage roper clotting
5.) Onions are ridiculously good for you
Chicken Cacciatore
Source: http://bit.ly/2rzYSWL
Ingredients:
2 large green bell peppers
1 clove garlic, minced
4 large tomatoes, chopped
1 pound boneless, skinless chicken breast, cut into bite-sized pieces
2 Tbsps. olive oil
¼ cup of fresh basil, chopped
1 cup of peas
1 cup of long grain brown rice, cooked
Directions:
Heat oil in large skillet
Saute pepper and garlic for about 5 minutes, until soft. Add chopped tomatoes, chicken and peas. Stir together
Simmer on low-medium heat for about 20 mintes, stirring occasionly
Serve over cooked rice.
Apple Turkey Gyro
Source: http://bit.ly/2q4jaWq
Ingredients:
1 cup sliced onion
1 Tbsp lemon juice
2 cups green bell pepper, sliced
2 cups red bell pepper, sliced
1 Tbsp vegetable oil
½ pound turkey breast, cut into thin strips
1 medium apple, cored and sliced
6 whole wheat pitas, lightly toasted
½ cup low-fat plain yogurt (optional)
Directions:
In a nonstick skillet, sauté onion, lemon juice, and bell peppers in oil until crisp
Stir in turkey and cook until turkey is fully cooked. Remove from heat and stir in apple.
Fold pita in half and fill with apple mixture; drizzle with yogurt
Spinach Pesto Pasta
Source: http://bit.ly/2qzjW1f
Ingredients:
8 ounces fettuccine
1 Tbsp olive oil
1 garlic clove, minced
1 cup basil leaves, stems removed
3 cups fresh spinach
½ cup low-fat, low-sodium chicken broth
¼ cup parmesan cheese, grated
1 tsp black pepper
1 (15 ounce) can white beans, drained and rinsed
1 cup red bell pepper, chopped
Directions:
Cook pasta as direct on package. Drain and place in large mixing bowl.
IN a blender add oil, garlic, spinach, basil, chicken broth, parmesan cheese, and black pepper.
Blend until leaves are well-blended.
Pour sauce over pasta. Mix well until coated.
Add beans and red bell pepper. Stir gently and serve.
Banana Breakfast Smoothie
Sources: http://bit.ly/1AA74bL
Ingredients:
1 banana, peeled
¼ cup strawberries, washed and sliced
1/3 cup non-fat milk
8 ounces plain yogurt, non-fat
Directions:
Combine all ingredients in a blender
Blend until smooth
Herbed Chicken with Broccoli
Source: http://bit.ly/2qzfnUQ
Ingredients:
4 chicken breasts, boneless (about 1 lb)
2 Tbsp garlic and herb blend
2 Tbsp Country Crock spread, divided
½ cup (4 oz) water
4 cups fresh broccoli florets
2 medium oranges, sliced
Directions:
Coat chicken breasts with herb blend. Melt 1 Tbsp country crock spread over medium heat n a 12-inch skillet (with lid, for cooking broccoli).
Add the coated chicken and brown on both sides. Reduce heat slightly and cook until done, turning a couple times
Remove chicken from skillet; add water and broccoli to skillet, cover with lid
Bring to a boil, reduce heat, cover and simmer about 3 minutes until broccoli is slightly tender, yet still bright green
For each individual plate, place 1 chicken breast on plate and garnish with orange slice. Mound broccoli next to chicken and dab with remaining Country Crock spread. Serve.
Broccoli Omelet
Source: http://bit.ly/2qBPZhE
Ingredients:
3 cups broccoli florets, cut into smaller pieces as needed
1 large red bell pepper, cut into strips
16 button mushrooms, sliced
Cooking spray
4 eggs plus egg whites from 8 eggs (or use 2 cups egg substitute or 8 whole eggs)
¼ cup (2 oz) fat-free milk
½ cup ricotta cheese, fat-free
2 Tbsp parmesan cheese, grated
Salt and pepper to taste
Directions:
Cut vegetables as directed
Whisk eggs and milk in a medium mixing bowl. Spray 10-inch non-stick skillet with cooking spray; heat. Add broccoli, peppers, and mushrooms. Sauté for about 3-5 minutes then remove from pan
To Cook One Omelet
Use cooking spray as needed
Ad ¼ of egg mixture to hot skillet and let spread to cover bottom of pan
When egg begins to thicken on top, sprinkle with ¼ of parmesan cheese Dab ½ the omelet over the vegetables and let cook for about 1 more minute
Slide onto individual serving plate. Season lightly with salt and pepper
Garnish with remaining vegetable mixture and serve
Mediterranean Potato Soup
Sources: http://bit.ly/2pTN6ta
Ingredients:
1 ½ tsp olive oil
1 clove garlic, minced
½ cup onion, chopped
4 cups (32 oz) chicken or vegetable broth, low-sodium
3 medium red potatoes, unpeeled, cubed
3 carrots, sliced
¼ tsp ground pepper
2 tsp Italian seasoning
1 can (15 oz) kidney beans, drained and rinsed
1 cup (2 oz) whole wheat noodles, uncooked
2 cups fresh spinach (or 1 cup frozen spinach
¼ cup parmesan cheese, shredded
Directions:
Heat oil in a 2-quart pot. Sauté garlic and onions about 3-4 minutes
Add chicken broth, water, potatoes, carrots and seasonings. Cover and bring to a boil. Reduce heat and simmer 15 minutes
Add kidney beans and noodles. Bring to a boil again. Cook until noodles are soft. Remove from heat.
Just before serving, add spinach to the pot and stir gently. Ladle into bowls and serve with parmesan cheese.
Strawberry Crepes with Greek Yogurt Crème
Sources: http://bit.ly/2q4dDiL
Ingredients:
1 ½ cups low-fat milk
3 eggs
2 Tbsp butter, melted
½ tsp fresh lemon juice
½ cups whole-wheat pastry flour
¾ cup-all purpose flour
1 cup 0% plain greek yogurt
3 ounces cream cheese
2 Tbsp cane sugar
3 cups fresh sliced strawberries
Directions:
In a large bowl, whisk together the milk, eggs and melted and lemon juice.
In a separate bowl, whisk together the flour and a pinch of salt. Slowly add in the flour to the milk mixture and whisk until smooth. Set aside.
Place the greek yogurt, cream cheese and sugar in a medium bowl and whisk using hand-beaters until light and fluffly. Set aside.
Heat a small non-stick pan or crepe pan over medium heat. Add butter to coat or spray with cooking spray. Pour 1 generous ounce of batter into the center of the pan and swirl to spread evenly. Cook for 30 seconds and flip. Cook for another 20 seconds and remove to a cutting board or flat surface. Continue until all batter is gone.
To assemble, dollop 1 heaping tablespoon of filling onto the crepes and roll. Continue with rest of crepes. Garnish with fresh sliced strawberries and serve immediately.
Leftover crepes can be refrigerated or frozen. After crepes have cooled completely, stack and store in sealable plastic bags in the refrigerator for several days or in the freezer for up to two months. When using frozen crepes, thaw on a rack before gently peeling apart
Tuna Apple Salad Sandwich
Source: http://bit.ly/2qFBqHu
Ingredients:
1 fuji apple
1-12 oz can chunk light tuna, drained
2 Tbsp plain yogurt, low-fat
2 Tbsp mayonnaise, reduced fat
½ cup raisins or chopped figs
¼ cup walnuts, chopped
1/8 tsp ground black pepper
2 Tbsp fresh parsley, chopped (optional)
½ tsp curry powder (optional)
Directions:
Cut apples in quarters; remove core and chop
In a medium size bowl, mix all salad ingredients, except tuna. Gently fold tuna.
Make sandwiches using lettuce and whole grain bread (toast if desired), and fill with tuna apple salad.
Serve with 8 oz glass of 100% orange juice
Patriotic No-Bake Sugar Cookies
Source: http://bit.ly/2rmiZe5
Ingredients:
1 ½ cups roasted cashews (unsalted)
¾ cup rolled oats
3 Tbsp pure maple syrup
1 Tbsp pure vanilla extract
4 oz vanilla Greek yogurt
¼ cup strawberries
¼ cup blueberries
Directions:
Place the cashews and oats in a food processor and blend on high for about 1 minute, or until finely ground (like flour). Transfer to a medium mixing bowl
Add vanilla and maple syrup. Mix until combined
Roll mix into 12 equal balls and flatten into a cookie shape
Place about a tsp of yogurt on each cookie and spread
Layer strawberries and blueberries on top of yogurt and store in an airtight container in the refrigerator for 3-5 days
_____________________________________________________________________________________________________________________________________________________________
Kuhn's Market Locations:
1.) Allison Park
Address: 2412 Ferguson Road, Allison Park, PA 15101
Phone Number: 412-219- 1100
2.) Banksville Road
Address: 3125 Banksville Road, Pittsburgh, PA 15216
Phone Number: 412-242- 8777
3.) Bellevue
Address: 661 Lincoln Avenue, Pittsburgh, PA 15202
Phone Number: 412-766- 4546
4.) Beulah Road
Address: 700 Beulah Road, Wilkins Township, PA 15145
Phone Number: 412-829- 2555
5.) Highwood
Address: 1130 Highway Street, Pittsburgh, PA 15212
Phone Number: 412-231- 8808
6.) Hopewell
Address: 2284 Brodhead Road, Aliquippa, PA 15001
Phone Number: 724-857- 2200
7.) Ingomar
Address: 745 West Ingomar Road, Ingomar, PA 15127
Phone Number: 412-366- 1700
8.) McKnight Road
Address: 4801 McKnight Road, Pittsburgh, PA 15237
Phone Number: 412-369- 8781
9.) Moon Township
Address: 825 Beaver Grade Road, Coraopolis, PA 15108
Phone Number: 412-264- 3225