November 2017
Sign up for the NEW Kuhn's Rewards Card today!
Earn points with purchases ● Redeem for discounts ● Special E-Offers ● Continuities and Clubs ● Special In-Ad Offers
Earn 1 point for every dollar spent
Reach the level you prefer and redeem points on your next shopping trip
350 points for $10.00 off your next order
800 points for $25.00 off your next order
1,500 points for $50.00 off your next order
_____________________________________________________________________________________________________________________________________________________________
Did You Know?
It takes over 500 peanuts to make a single 12-ounce jar of peanut butter.
The average size of a peanut farm is 100 acres.
Two former peanut farmers have been president of the United States. (Thomas Jefferson and Jimmy Carter!)
There are six different towns in the United States named "Peanut" and three of them are in Pennsylvania! (Peanut, CA – Lower Peanut, PA – Upper Peanut, PA – Peanut, PA – Peanut, TN – Peanut, WV)
Cookie bakers use around 230,000 pounds of peanuts butter every week to make the Girl Scout's fan favorites Do-Si-Dos and Tagalongs.
People living along the East Coast tend to prefer smooth peanut butter, while the West Coast like the chunky kind.
When astronaut Alan Shepard was going to the Moon in Apollo 14, he brought peanuts with him and made PB&Js on the International Space Station.
Rumor has it that Elvis Presley's favorite kind of sandwich was peanut butter and banana, so is Bill Clinton's!
Peanuts are sometimes called "goobers" which comes from the word, "nguba" – the word for "peanut" in the Congo language.
George Washington Carver was known as the "grandfather of peanuts."
Peanut Butter Bacon Egg and Cheese Wrap
Do you ever look at a breakfast burrito and wonder how you can make it even better than it already is? I have the answer for you. Add peanut butter to it. Stop by your local Kuhn's to pick up everything you need to start your day off the right way. Here's what you'll need:
1 large egg, well beaten
1 taco-sized flour tortilla
2 tablespoons SKIPPY peanut butter
1 strip bacon, cooked
1 (1 ounce) American cheese slice
Peanut Butter and Banana Breakfast Pizza
Who says you can only have pizza for dinner? Who says pizza is totally unhealthy? Who says there has to be cheese? We're throwing all those misconceptions away with this peanut butter and banana breakfast pizza. Go over to a Kuhn's store near you for your ingredients!
1 pita or flour tortilla (toasted)
3 tablespoons peanut butter
½ large banana (sliced)
1 tablespoon raisins
½ tablespoon pepitas
1 pinch ground cinnamon
Peanut Butter BBQ Chicken Melt
I know that when you first think BBQ chicken, peanut butter probably isn't the first thing that comes to your mind, but hear us out. Adding things like peanut butter, orange juice, and cheddar cheese might sound a bit jarring but once you taste it, you'll wonder why you never had before! The combination of flavors gives your taste buds something they won't soon forget. Stop on by Kuhn's Market to pick up what you need to completely change the way you see BBQ chicken.
4 slices whole wheat bread (toasted)
1/3 cup peanut butter
3 tablespoons barbeque sauce
2 tablespoons orange juice
2 cups shredded chicken (cooked)
1/3 cup Cheddar cheese (shredded)
Peanut Butter and Chipotle Jam Sandwich
Do you ever get stuck between wanting something spicy and wanting something sweet? You just can't decide. Why not try both? This recipe gives the old, reliable peanut butter and jelly a little kick – just what the classic has been missing. Let Kuhn's help you spice up your lunch! Here's what you'll need.
3 Tablespoons strawberry jam
1 teaspoon minced chipotle peppers in adobo sauce
3 tablespoons creamy peanut butter
2 slices whole-grain bread (toasted)
Peanut Butter & Jelly Pork Sandwiches
If you're getting tired of making your kids the same peanut butter and jelly every day, it's time to switch things up! Mix together their lunchtime favorite with a dinner your adults are sure to enjoy and watch it become your whole family's favorite meal. Kuhn's is here to help make your dinner even easier. Stop by and pick up your ingredients today!
3 to 4 pounds boneless pork shoulder butt roast
1 teaspoon salt
1/2 teaspoon pepper
1 can (14-1/2 ounces) reduced-sodium chicken broth
1 cup creamy peanut butter
3/4 cup apricot preserves
1/4 cup packed brown sugar
1/4 cup finely chopped onion
1/4 cup cider vinegar
3 tablespoons Dijon mustard
1 garlic clove, minced
2 tablespoons butter, melted
6 ciabatta rolls, split
Coleslaw, optional
Tofu and Veggies in Peanut Sauce
If you're looking to try something new, try this Asian tofu recipe. This meal is super easy to make, healthy and so flavorful. The best part? You can pick up everything you need from your local Kuhn's market! Who knew that eating healthy could be this simple? Here's what you'll need.
1 tablespoon peanut oil
1 small head broccoli, chopped
1 small red bell pepper, chopped
5 fresh mushrooms, sliced
1-pound firm tofu, cubed
½ cup peanut butter
½ cup hot water
2 tablespoons vinegar
2 tablespoons soy sauce
1 ½ tablespoons molasses
Ground cayenne pepper to taste
Peanut Chocolate Whirls
Are you looking for a fun, easy and delicious dessert but don't know where to start? Look no further! These peanut chocolate whirl cookies are the perfect way to end your day and are a great way to get your kids involved in the kitchen. The best part is that you can pick up all the ingredients you need at your local Kuhn's Market. Here's what you'll need.
1/2 cup shortening
1/2 cup creamy peanut butter
1 cup sugar
1 large egg
2 tablespoons milk
1 teaspoon vanilla extract
1-1/4 cups all-purpose flour
1/2 teaspoon baking soda
1/2 teaspoon salt
1 cup (6 ounces) semisweet chocolate chips
Killer Peanut Butter Cake
Do you want to bring something new to the dessert table at Thanksgiving Dinner this year? Kuhn's has got your back by providing you all the ingredients you'll need to make this "killer" peanut butter cake that is sure to be the talk of the town. Here's what you'll need:
For the Frosting:
½ cup unsalted butter, softened
3 cups powdered sugar
up to ½ cup heavy cream (at room temperature)
For the Cake:
1½ cups all-purpose flour
2 teaspoons baking powder
½ teaspoon baking soda
½ teaspoon salt
⅓ cup coconut oil (at room temperature) or oil of choice
⅓ cup natural, unsweetened peanut butter
1 cup brown sugar
2 large eggs
1 cup buttermilk
1 teaspoon vanilla extract
Peanut Butter & Jelly Facts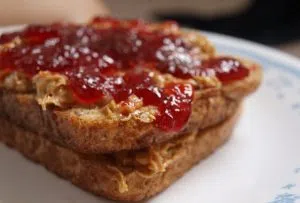 Peanut Butter and Jelly sandwiches helped feed the troops as military rations during World War II. The returning soldiers helped make them popular.
In the early 20th century, the price of peanuts was very high so the only people who could enjoy PB&Js were the higher class.
According to a study done by Prepared Foods, the average American will eat approximately 1,500 peanut butter and jelly sandwiches before they turn 18.
These sandwiches really started to become popular once stores began selling packaged, slices of bread so families could make their own at home. I guess now we know what actually was the best thing since sliced bread.
Because of their signature "Uncrustable," the Smuckers company actually own the patent for no crusts peanut butter and jelly.
It's not as unhealthy as some people think. Normal peanut butter and jelly offers 27% of your daily fat and 22% of your daily calories.
If you're looking for a way to make sure your PB&J doesn't become too soggy, just spread your peanut butter on both slices of bread!
Kuhn's Market Locations:
Address: 2412 Ferguson Road, Allison Park, PA 15101
Phone Number: 412-219-1100
2.) Banksville Road
Address: 3125 Banksville Road, Pittsburgh, PA 15216
Phone Number: 412-242-8777
3.) Bellevue
Address: 661 Lincoln Avenue, Pittsburgh, PA 15202
Phone Number: 412-766-4546
4.) Beulah Road
Address: 700 Beulah Road, Wilkins Township, PA 15145
Phone Number: 412-829-2555
5.) Highwood
Address: 1130 Highway Street, Pittsburgh, PA 15212
Phone Number: 412-231-8808
6.) Hopewell
Address: 2284 Brodhead Road, Aliquippa, PA 15001
Phone Number: 724-857-2200
7.) Ingomar
Address: 745 West Ingomar Road, Ingomar, PA 15127
Phone Number: 412-366-1700
8.) McKnight Road
Address: 4801 McKnight Road, Pittsburgh, PA 15237
Phone Number: 412-369-8781
9.) Moon Township
Address: 825 Beaver Grade Road, Coraopolis, PA 15108
Phone Number: 412-264-3225