December 2017
CHRISTMAS IS FOR COOKIES!
If you're looking a new cookie recipe to sweeten your next holiday party or family gathering, check out these fun and new ideas to add to your collection.
Sign up for the NEW Kuhn's Rewards Card today!
Earn points with purchases ● Redeem for discounts ● Special E-Offers ● Continuities and Clubs ● Special In-Ad Offers
Earn 1 point for every dollar spent
Reach the level you prefer and redeem points on your next shopping trip
350 points for $10.00 off your next order
800 points for $25.00 off your next order
1,500 points for $50.00 off your next order
_____________________________________________________________________________________________________________________________________________________________
5 Facts You Probably Don't Know About Christmas Cookies
(Photo and Recipe Credit: http://bit.ly/2im7MHW)
There's more to Christmas cookies than you might think.
Christmas cookies: You know you love them. You know they go great with a cold glass of milk (or beer). You know you're probably going to eat way too many of them this holiday season. But there's also a lot you might not know about Christmas cookies. Here, a few fun facts to read while chowing down.
Queen Elizabeth I invented gingerbread men. Thank Queen Elizabeth I for adorable little gingerbread people. While she didn't actually bake the cookies herself (she was a queen, after all), she did request that her royal bakers create gingerbread cookies shaped like visiting dignitaries in order to honor them.
We leave cookies for Santa because of the Great Depression. It wasn't standard practice to leave cookies and milk out for Santa Claus until the 1930s. Historians posit that it was something parents encouraged children to do in order to teach them how to share and be charitable during a time of economic depression. The tradition stuck and Santa's pants have never fit the same.
Cookies were originally made to test oven temperature. According to culinary historians, cookies as we know them today were first made not to eat but to test the temperature of an oven. Cooks would take a small dollop of cake batter and bake it as a means of gauging whether the oven was ready or not.
Gingerbread men were illegal in some places during the Reformation. Martin Luther was not a fan of Christmas. In response to his anti-saint stance (Luther condemned the practice of praying to saints and instead taught his followers to pray directly to God), the city of Delft in the Netherlands forbade the sale of gingerbread men. Meanwhile, the magistrates of Amsterdam banned all molded cookies, as did the city of Arnhem.
Santa Claus eats over 300 million cookies on Christmas Eve. Every Christmas Eve, Santa visits over 500 million homes where he encounters about billion cookies. If you hypothesize that he takes about two bites of each cookie he is given, it means he eats a total of 336,150,386 cookies.
Sparkling Butter Toffee Cookies
(Photo and Recipe Credit: http://bit.ly/2k7uqnD)
What you'll need:
1 cup sugar
3/4 cup Land O Lakes® Butter softened
1 large Land O Lakes® Egg
1 teaspoon vanilla
2 cups all-purpose flour
1 1/2 teaspoons baking powder
1/4 teaspoon baking soda
1/2 cup English or almond toffee bits
Sugar
Heat oven to 350°F.
Combine sugar, butter, egg and vanilla in bowl. Beat at medium speed, scraping bowl often, until creamy. Add flour, baking powder and baking soda; beat at low speed until well mixed. Stir in toffee bits.
Shape dough into 1-inch balls. Roll in sugar. Place 2 inches apart onto ungreased cookie sheet. Flatten to 1 1/2-inch circles using bottom of glass. If glass sticks, dip glass in sugar.
Bake 9-11 minutes or until edges are just lightly browned. Do not over bake. Sprinkle with sugar while warm. Cool completely.
Chocolate Peppermint Pinwheel Cookies
(Photo and Recipe Credit: http://bit.ly/2AhvxYd)
What you'll need:
1 batch Sugar Cookies, recipe follows
3 ounces unsweetened chocolate, melted
1 teaspoon vanilla extract
1 egg yolk
1 teaspoon peppermint extract
1/2 cup crushed candy canes or peppermint candies
Sugar Cookie:
3 cups all-purpose flour
3/4 teaspoon baking powder
1/4 teaspoon salt
1 cup unsalted butter, softened
1 cup sugar
1 egg, beaten
1 tablespoon milk
Powdered sugar, for rolling out dough
Divide the dough in half and add chocolate and vanilla to 1 half and incorporate with hands. Add egg yolk, peppermint extract, and crushed candy to other half of dough and incorporate with hands. Cover both with plastic and chill for approximately 5 minutes. Roll out doughs separately to approximately 1/4-inch thickness. Place peppermint dough on top of chocolate and press together around the edges. Using waxed paper or flexible cutting board underneath, roll dough into log. Wrap in wax paper and refrigerate for 2 hours.
Preheat oven to 375 degrees.
Remove dough from the refrigerator and cut into 1/2-inch slices. Place cookies 1-inch apart on greased baking sheet, parchment, or silicone baking mat and bake for 12 to 13 minutes, rotating the pan halfway through cooking time. Remove from oven and let sit on baking sheet for 2 minutes, then move to a wire rack to cool completely. Store in an airtight container for up to 1 week.
Sugar Cookie:
Sift together flour, baking powder, and salt. Set aside. Place butter and sugar in large bowl of electric stand mixer and beat until light in color. Add egg and milk and beat to combine. Put mixer on low speed, gradually add flour, and beat until mixture pulls away from the side of the bowl. Divide the dough in half, wrap in waxed paper, and refrigerate for 2 hours.
Preheat oven to 375 degrees F.
Sprinkle surface where you will roll out dough with powdered sugar. Remove 1 wrapped pack of dough from refrigerator at a time, sprinkle rolling pin with powdered sugar, and roll out dough to 1/4-inch thick. Move the dough around and check underneath frequently to make sure it is not sticking. If dough has warmed during rolling, place cold cookie sheet on top for 10 minutes to chill. Cut into desired shape, place at least 1-inch apart on greased baking sheet, parchment, or silicone baking mat, and bake for 7 to 9 minutes or until cookies are just beginning to turn brown around the edges, rotating cookie sheet halfway through baking time. Let sit on baking sheet for 2 minutes after removal from oven and then move to complete cooling on wire rack. Serve as is or ice, as desired. Store in airtight container for up to 1 week.
Yield: approximately 3 dozen, 2 1/2-inch cookies
Prep Time: 15 minutes
Cook Time: 7 to 9 minutes
Inactive Prep Time: 2 hours
Snickerdoodles
(Photo and Recipe Credit: http://ow.ly/H17k30gl5lw)
What you'll need:
½ cup salted butter, softened
½ cup vegetable shortening
1 ½ cups + 2 tablespoons sugar
2 medium eggs
2 ¾ cups all-purpose flour
2 teaspoons cream of tartar
1 teaspoon baking soda
¼ teaspoon fine salt
2 teaspoons ground cinnamon
Preheat the oven to 400 degrees F.
In a large bowl, combine the butter, shortening, 1 1/2 cups sugar and the eggs and mix thoroughly with an electric mixer on medium speed until creamy and well combined, 1 to 2 minutes. Sift together the flour, cream of tartar, baking soda and salt, and stir into the shortening mixture.
In a small bowl, stir together the remaining 2 tablespoons sugar with the cinnamon.
Shape the dough into 1 1/2-inch balls (1 tablespoon per ball), and roll each ball in the cinnamon-sugar. Arrange the dough balls 2 inches apart on ungreased cookie sheets. Bake two sheets at a time until the edges of the cookies are set but the centers are still soft, 8 to 10 minutes, rotating the sheets halfway through. Transfer the cookies to wire racks for cooling. Repeat with the remaining dough balls. Store in an airtight container.
Drei Augen (Third Eye) Cookies
(Photo and Recipe Credit: http://ow.ly/CljH30glc3y)
What You Need:
1 ¼ cup unsalted butter, room temperature
2/3 cup sugar
2 1/3 cup all-purpose flour
½ cup almond meal
1 teaspoon cinnamon
1 cup powdered sugar
1 cup red currant jelly
Add butter and sugar to mixing bowl, mix until smooth.
In a bowl add flour, almond meal and cinnamon. Stir to combine.
Add flour mixture to butter mixture until blended and smooth.
Divide dough into 3 parts. Place each part in between wax paper.
Using a rolling pen on top of paper roll out each disk of dough into 11″ circle. Place dough on cookie sheet in refrigerator and chill for at least 2 hours
Preheat oven to 350 degrees.
Line cookie sheets with silicone baking mat or parchment (note a silicone baking mat is included in the BAKERS BASKET GIVEAWAY)
Remove one disk at a time, peel away both top and bottom sheet of wax paper to loosen away from dough. Place dough back on to paper and using 1 1/2″ round cutter cut cookies. Take 1/2 of cut rounds and using a straw press down to cut out three small holes.
Transfer cut cookies without holes on one sheet and cookies with holes to another. They will cook to different times.
Bake on middle oven rack for 10-12 minutes for cookies with holes and 12-15 minutes for bottoms or until lightly golden brown.
Let cook on racks. Sift with powdered sugar
While cookies are cooling, boil jelly for 2 minutes, stirring.
Spoon 1/4 teaspoon of cooled jelly onto each cookie, then top with top (cut out cookie) press lightly so jely fills up into holes.
Store airtight between layers of wax paper for 2-3 days. You can freeze these for up to 1 month
Chocolate Peppermint Pizzelles
(Photo and Recipe Credit: http://ow.ly/KJIZ30glhvT)
What You'll Need:
Cookie:
1 ¼ cups all-purpose flour
¼ cup unsweetened cocoa powder
1 ½ teaspoons baking powder
1 teaspoon ground cinnamon
½ teaspoon finely grated orange zest
¼ teaspoon fine salt
3 large eggs, at room temperature
1 cup granulated sugar
½ cup (1 stick) unsalted butter, melted, cooled to room temperature
Vegetable oil spray
Confectioners' sugar, for dusting cookies
For Filling
12 ounces semisweet chocolate
4 tablespoons unsalted butter
½ teaspoon mint extract
Filling:
Whisk the flour, cocoa, baking powder, cinnamon, orange zest, and salt together in a large bowl.
In another medium bowl, briskly whisk the eggs, sugar and melted butter together until smooth and evenly combined.
Make a well in the center of the dry ingredients and pour in the egg mixture. Gradually whisk the liquid into the flour to make a thick batter. When the pizzelle batter starts to clump up in the whisk, switch to a rubber spatula to finish mixing it together. (If you have a large pastry bag, put a big round tip in it, and fill with the pizzelle batter.)
Preheat a pizzelle iron until a drop of water sizzles on the hot surface, about 10 minutes. Lightly spray the hot surface with nonstick cooking spray. Pipe or spoon about a tablespoon of the batter into the center of each cookie imprint. Close the iron and cook until whiffs of steam comes from the iron, about 30 to 45 seconds. Open and remove cookie from the iron, cool on a rack. Repeat with remaining batter.
To make the filling:
Put the chocolate and butter in a microwave safe bowl. Cover and microwave on medium power until soft and melted, about 3 minutes depending on the power of your oven; stir until smooth. Alternatively, put the chocolate in a heatproof bowl. Bring a saucepan filled with 1-inch or so of water to a very slow simmer; set the bowl on the pan (without touching the water). Stir occasionally until melted and smooth. Stir in mint extract.
To serve pipe a tablespoon of the mint filling into the center of half the cookies. Top with another cookie and press to sandwich them together. Serve now or keep tightly covered for up to 1 week.
Kruschicki
(Photo and Recipe Credit: http://ow.ly/YXb530gllTR)
What you'll need:
6 egg yolks
½ pint sour cream
3 tablespoons white sugar
1 tablespoon vanilla extract
1 tablespoon whiskey
3 cups all-purpose flour
1 cup vegetable oil (for frying)
1/3 cup confectioners' sugar for decoration
Heat oil in deep-fryer to 375 degrees F (190 degrees C).
In a large bowl, beat together the egg yolks, sour cream, white sugar, vanilla and whiskey until smooth. Stir in flour until dough is stiff enough to knead.
Turn out onto a floured surface and knead until smooth. Knead in additional flour if necessary.
Divide dough into 3 or 4 pieces and roll each ball on floured surface.
Cut into strips about 3 inches long then make a slit long ways down the middle. Pull one of the ends through like a bow.
Place into hot oil and deep fry until golden brown.
Let drain on paper towels and sprinkle with confectioners' sugar.
Cream Cheese Kolacky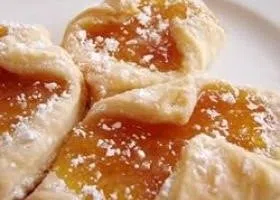 (Photo and Recipe Credit: http://ow.ly/CcCq30guXOu)
What You Need:
3 ounces cream cheese
1/2 cup butter, softened
1 cup all-purpose flour
½ cup any flavor fruit jam
1/3 cup confectioners' sugar (for decoration)
Mix cream cheese and butter until smooth.
Add flour slowly until well blended.
Shape into a ball and chill overnight or for several hours.
Preheat oven to 350 degrees F (180 degrees C).
Roll…
Yield: 30
Cooking time: 10 Min
Candied Bacon and Dark Chocolate Chunk Cookies
(Photo and Recipe Credit: http://bit.ly/2i28iXO)
What You Need:
CANDIED BACON:
8 strips applewood-smoked bacon
1/4 cup raw sugar
1/4 teaspoon cayenne pepper
Cookies:
1 3/4 cups unbleached all-purpose flour
1/2 teaspoon baking soda
1/4 teaspoon fine sea salt
3/4 cup melted unsalted butter, at room temperature
3/4 cup raw sugar, pulverized
2 egg yolks
1 to 2 teaspoons maple extract
1 cup dark chocolate, chopped
For the candied bacon: Preheat the oven to 400 degrees F. Line a cookie sheet with parchment paper, and set it aside. Lay the bacon strips in a single layer on a wire rack, and coat the tops completely and evenly with the raw sugar. Lightly press the sugar into the bacon strips, sprinkle them with the cayenne, and transfer the rack to the lined cookie sheet. Bake for about 12 minutes, or until the bacon is deep red and very caramelized. Check on the bacon frequently; the cooking time may vary depending on the thickness of the bacon. Use tongs to remove the candied bacon from the baking sheet, and transfer the slices to a wire rack to cool completely. Once cooled, roughly chop.
For the cookies: With the oven rack in the middle position, preheat the oven to 325 degrees F. Line 2 cookie sheets with parchment paper. In a bowl, combine the flour, baking soda and salt. Set aside. In another bowl, combine the melted butter, brown sugar, egg yolks and maple extract with a wooden spoon, until the mixture is well blended. Stir in the dry ingredients and the dark chocolate chunks.
With a spoon, drop 2 tablespoons of dough per cookie onto the baking sheets, leaving 2 inches between each cookie. Flatten lightly with your fingers, then press your thumb down the center of each cookie to make a slight indent. Add a tablespoon of chopped candied bacon to the center of each cookie. Bake for 11 to 12 minutes. Let cool on the baking sheet for a few minutes then transfer to a cooling rack. The cookies will be a bit soft but will firm up when cooled and become chewy. For crunchier cookies bake for 15 minutes, taking care not to burn the bacon by covering the cookies loosely with aluminum foil.
Kuhn's Market Locations:
Allison Park
Address: 2412 Ferguson Road, Allison Park, PA 15101
Phone Number: 412-219-1100
2.) Banksville Road
Address: 3125 Banksville Road, Pittsburgh, PA 15216
Phone Number: 412-242-8777
3.) Bellevue
Address: 661 Lincoln Avenue, Pittsburgh, PA 15202
Phone Number: 412-766-4546
4.) Beulah Road
Address: 700 Beulah Road, Wilkins Township, PA 15145
Phone Number: 412-829-2555
5.) Highwood
Address: 1130 Highway Street, Pittsburgh, PA 15212
Phone Number: 412-231-8808
6.) Hopewell
Address: 2284 Brodhead Road, Aliquippa, PA 15001
Phone Number: 724-857-2200
7.) Ingomar
Address: 745 West Ingomar Road, Ingomar, PA 15127
Phone Number: 412-366-1700
8.) McKnight Road
Address: 4801 McKnight Road, Pittsburgh, PA 15237
Phone Number: 412-369-8781
9.) Moon Township
Address: 825 Beaver Grade Road, Coraopolis, PA 15108
Phone Number: 412-264-3225