HOLIDAY LIGHTS 2018
Kennywood Holiday Lights
Friday, Saturday, & Sunday nights from November 23 – December 23, 2018 & December 26 – December 30, 2018 – 5 pm – 9 pm.
The best place to visit during the holidays in Pittsburgh is Kennywood! America's Finest Traditional Amusement Park decks its halls (and rides) with nearly two million twinkling lights, highlighted by the tallest Christmas tree in the state of Pennsylvania. Enjoy holiday songs, see spectacular light shows, visit Santa, and more!
For details, go to https://bit.ly/2zj4bPd.
Overly's Country Christmas
November 16, 2018 – January 1, 2019 (Closed 11/19, 11/26, 12/3, 12/4 plus Thanksgiving, Christmas Eve, and Christmas Day)
Gates open at 5:30 pm (weather permitting)
Christmas Village closing times: (Sunday – Thursday: 9pm, Friday – Saturday: 10pm)
Celebrate the season at Overly's Country Christmas®, a nonprofit organization operated mainly by volunteers who are committed to creating holiday memories with a walk-around Christmas Village that's filled with an array of old-fashioned traditions and treats.  Sing carols 'round the bonfire, revel in the model train display, have your picture taken with Santa (in the days before Christmas), take a horse drawn wagon/sleigh ride or shop for gifts in the C. Edgar & Sons General Store plus much, much more as you experience the warmth of this traditional Christmas Village!
For details, go to http://www.overlys.com/
Phipps Conservatory Holiday Magic – Let It Glow!
November 23, 2018 – January 6, 2019
5pm – 11pm (Weather Permitting)
The holiday season isn't complete without a visit to Phipps, and Holiday Magic: Let It Glow! promises to be their biggest and brightest show yet! Phipps has pulled out all the stops for this year's Winter Flower Show with dazzling new displays of holiday trees, topiaries, exquisitely detailed props, and signature floral delights, including amaryllis, orchids and more than 2,000 poinsettias. From a newly-restored Palm Court filled with trees mounted on oversized music boxes to a Serpentine Room of nutcrackers, toboggans and tea sets, one amazing display after another will dazzle your senses and warm your holiday spirit. Plus, in the Outdoor and Discovery Gardens, a must-see Winter Light Garden will sparkle with luminous orbs, trees, fountains, a tunnel of lights and an all-new ice tower display that will mesmerize guests of all ages.
For details, go to http://bit.ly/2zt0gBq
Oglebay's Winter Festival of Lights

November 9, 2018 – January 1, 2019
Your favorite holiday tradition is back! Experience the show like never before with NEW 3D Sleigh Bans! Prepare to be amazed as holographic eye wear transforms every point of light into a magical display. Beginning in 1985, the Winter Festival of Lights has grown into one of the nation's largest holiday light shows, attracting more than one million visitors each year. Identified as one of the best holiday light displays in the United States by countless travel companies and online publications, the Winter Festival of Lights features three hundred acres of twinkling lights over a six-mile drive. The dazzling display includes 90 lighted attractions boasting more than one million energy-efficient LED lights.
For details, go to https://bit.ly/2RptR4c.
(Source: http://ow.ly/gBMe30g1y4d)
If you're having trouble finding the absolute PERFECT Christmas playlist, Billboard Magazine has got you covered! Break out the egg nog and mistletoe and get ready to deck the halls the proper way.
"Last Christmas" ~ Wham (1984)
There is no way you won't hear this song during the holiday season at least once. If not from Wham!, there are also versions by alternative rockers, Jimmie Eat World, pop superstars like Ashley Tisdale, Hilary Duff, Ariana Grande and Carly Rae Jepsen. Although those are all fantastic, nothing quite hits home like the vocal stylings of the late George Michael.
"Jingle Bell Rock" ~ Bobby Helms (1957)
This classic track has been featured in popular movies like "Lethal Weapon" and "Mean Girls." The song has led to some covers by the best in country music like George Strait, Aaron Tippin, Fascal Flatts and Blake Shelton and ex-wife Miranda Lambert. The song is an extension of "Jingle Bells" and even makes reference to ANOTHER Christmas classic with "Rock Around the Clock."
"Feliz Navidad" ~ Jose Feliciano (1970)
The bilingual holiday tune will have you dancing in your seat at no time. If you don't hear the original track, you're sure to either hear a cover or a parody. Covers were done by Michael Buble, the cast of Glee, Celine Dion, David Hasselhoff and who could forget The Cheetah Girls. Bob Rivers parodied the song with "Feliz Navidad," and IFC parodied it for a cop-movie marathon with "Police Navidad."
"Where Are You, Christmas" ~ Faith Hill (2000)
If you're a fan of the live-action "Dr. Seuss' How the Grinch Stole Christmas," starring Jim Carrey and Taylor Momsen, you'll recognize this song. This was one of the breakout songs from the soundtrack and gained over 897,000 downloads.
"Christmas Canon" ~ Trans-Siberian Orchestra (1998)
Most notably known for their Christmas instant-classics, the rock opera group transformed Johann Pachelbel's Canon in D Major with lyrics and a rock twist complete with a children's choir following into the rest of the album, "Christmas Attic."
"Rockin' Around the Christmas Tree" ~ Brenda Lee (1958)
Did you know that Brenda Lee was only 13 years old when she recorded this song? The track is typically declared as a rock and roll song but also can be classified as country. The song is found in some of our classic Christmas flicks like: Rudolph the Red-Nosed Reindeer, Rudolph and Frosty's Christmas in July and Home Alone.
"Mistletoe" ~ Justin Bieber (2011)
Of course JB had to make the list! Raking in more than 1.1 million downloads, Bieber has sang his way into Christmas traditions across the globe. The song manages to make an acoustic bop with elements of pop, R&B and even a bit of reggae. This track broke through the top 10 lists in Canada, Denmark and Norway and peaked at number 11 in the United States.
"Christmas Eve (Sarajevo 12/24)" ~ Trans-Siberian Orchestra (1996)
This solely instrumental song by Trans-Siberian Orchestra has become one of the season's leading songs since its release in 1996. It is a genius mashup of "God Rest Ye Merry Gentlemen" and "Carol of the Bells" and was part of the group's debut album "Christmas Eve and Other Stories." As of last November, this track has been downloaded all around the world over 1.3 million times.
"Do You Want To Build A Snowman?" ~ Kristen Bell, Agatha Lee Monn & Katie Lopez (2013)
Despite its seriously dark backstory in the 2013 Disney blockbuster, Frozen, this song has become iconic in the winter among families from across the globe. The song has been covered by 26 members of Disney Channel Circle of Stars in July of 2014 and topped Billboard's "US Heatseekers Songs" and "US Holiday Digital Songs." This track and brought in 1.6 million downloads to date.
"All I Want For Christmas Is You" ~ Mariah Carey (1994)
Who didn't see this coming? This track has been downloaded over 3.2 million times and the official music video has ranked over 290 million views after being published November 23, 2009.
---
---
YOUR HOLIDAY "MUST WATCH" LIST
(Source: http://ow.ly/QdWU30g1yuF)
If you're looking to just snuggle up around the fireplace and watch some quality Christmas movies, Rotten Tomatoes wants to make sure you pick the right ones. They've put together a list of some of their Top Ranked Christmas movies to give you the optimal Christmas movie night.
Arthur Christmas (2011) [Rated PG]
Starring: James McAvoy, Hugh Laurie, Bill Nighy
Everybody makes mistakes, even Santa Claus. When a technological difficulty makes Santa forget to deliver presents to one child in the UK, it's up to his son Arthur and Arthur's Grandsanta, with the help of a young elf, to save the magic of Christmas the old fashioned way, with an old sleigh and 8 flying reindeer.
Die Hard (1988) [Rated R]
Starring: Bruce Willis, Alan Rickman, Alexander Godunov, Bonnie Bedelia
When a NYPD police officer, John McClane, stumbles upon a terrorist attack at a Christmas party while he's visiting his ex-wife in Los Angeles, he takes matters into his own hands to stop the terrorists and save all the hostages.
The Nightmare before Christmas (1993) [Rated PG]
Starring: Danny Elfman, Catherine O'Hara, Chris Sarandon, William Hickey
When Halloweentown's pumpkin king, Jack Skellington, grows bored of scaring people in the real world, he discovers Christmastown and starts a plot that only the mind of Tim Burton could imagine. Jack kidnaps Santa Claus and decides to take over the holiday, trying to embrace the bright colors and warm spirits – but not everything turns out like it's planned.
The Apartment (1960) [Not Rated]
Starring: Jack Lemon, Shirley McClean, Fred MacMurray
An insurance worker allows his company bosses to use his apartment in the Upper West Side of New York for extramarital affairs. What could go wrong? When his manager uses the apartment in exchange for a promotion, the real tenant finds that his manager's mistress is the woman he has a crush on that is the center of his attention, he's stuck between love and his career.
Miracle on 34th Street (1946) [Not Rated]
Starring: Edmund Gwenn, John Payne, Maureen O'Hara
When the "Santa" at Macy's shows up drunk for work, the store supervisor, Doris, hires Kris, an older man with a white beard who vaguely resembles Santa Claus to fill in. However, she's in for a surprise when she figures out that her replacement actually believes he is the real Jolly Ole Saint Nick. Kris, appropriate name, goes out of his way to try and bring back the believer in Doris and grant her daughter's wishes while defending his "true" identity in the court.
It's a Wonderful Life (1947) [Not Rated]
Starring: James Stewart, Donna Reed, Lionel Barrymore, Henry Travers, Thomas Mitchell
Small-town boy George Bailey had dreams of traveling and seeing the world. But after thigns out of his control put a road block in his path, George travels home to be there for his family, his father's business and for the good of Bedford Falls. After he contemplates suicide, his greeted by his guardian angel, Clarence, who shows him exactly what life would have been like if he was never born.
Kuhn's Holiday Recipe Book!
Treat yourself this holiday season and put your diet on the back burner. Dive into the tastes of the seasons. If you're not sure what to make, don't worry – we've teamed up with Kuhn's to give you some ideas. Enjoy!
Source for Recipes: https://bit.ly/2yGEyrR
Christmas Tree Pull-Apart Bread
What You'll Need:
Dough
1 teaspoon active dry yeast (not rapid-rise)
4 1/2 teaspoons plus a pinch of sugar
2 tablespoons unsalted butter, melted, plus more for bowl
1/2 cup whole milk, room temperature
Lactaid 100% Lactose Free Calcium Enriched Milk 0.5 Gal
1 1/2 teaspoons kosher salt
2 large eggs, whisked
2 3/4 cups unbleached all-purpose flour, plus more for dusting
Filling
1 stick unsalted butter, room temperature
1 teaspoon minced garlic (from 1 clove)
1/4 cup finely chopped fresh flat-leaf parsley
2 tablespoons finely chopped fresh chives
1/2 teaspoon kosher salt
1/4 cup finely grated Parmesan
Sweety Drop peppers, fresh mozzarella pearls, and sage and rosemary sprigs, for garnish
Dough: In the bowl of a stand mixer, combine yeast, 2 tablespoons warm water (110 degrees), and pinch of sugar. Let stand until foamy, about 5 minutes.
Add butter, milk, salt, remaining 4 1/2 teaspoons sugar, and eggs; stir to combine. Attach bowl to mixer fitted with dough-hook attachment. Slowly add flour and mix on low speed until mixture just comes together. Increase speed to medium-high; beat until dough is soft and elastic, about 7 minutes.
Lightly brush a large bowl with butter. Place dough in bowl; cover with plastic wrap. Place in a warm, draft-free place and let rise until dough doubles in size, about 1 hour (or refrigerate overnight; bring to room temperature before baking).
Filling: Combine butter, garlic, parsley, chives, and salt in a small bowl. Line a baking sheet with parchment. Turn dough out onto a lightly floured surface. Stretch into a 7-by-15-inch rectangle. Spread herb-butter mixture evenly over dough. Using a pizza wheel or a sharp knife, cut dough crosswise into 1/2-inch-wide strips. Roll each strip into a spiral and tuck end underneath. Arrange in the shape of a tree on prepared sheet, forming two rows of five, two rows of four, two rows of three, one row of two, and one row of one. Sprinkle evenly with Parmesan. Cover loosely with plastic wrap and let rise until dough is puffy and soft, about 20 minutes.
Preheat oven to 375 degrees. Bake until lightly browned, 22 to 25 minutes. Decorate with peppers, mozzarella pearls, and sage and rosemary sprigs.
Twice-Baked Cheese Strudel
This quick and savory dish is a favorite for any appetizer buffet.
What You'll Need:
7 sheets phyllo dough
1/2 cup unsalted butter (1 stick) melted
10 tablespoons finely grated Asiago cheese
12 tablespoons finely grated Parmesan cheese
10 tablespoons finely grated Pecorino Romano cheese
5 1/2 tablespoons poppy seeds, plus more for topping
Heat oven to 350 degrees. Place one sheet of phyllo on a clean surface, and brush evenly with butter. Repeat with two more sheets of phyllo. Sprinkle third layer of buttered phyllo evenly with 2 tablespoons of each cheese and 1 tablespoon poppy seeds. Add four more layers with cheeses and seeds, for a total of two layers just with butter and five layers with cheeses and seeds.
Carefully roll up the pastry and filling lengthwise so it is compact. The roll should measure 1 1/2 to 2 inches in diameter. Brush the outside of the roll with butter, and sprinkle with remaining 2 tablespoons Parmesan cheese and remaining 1/2 tablespoon poppy seeds. Cut the roll in half, and transfer to a parchment- lined baking pan. (Alternatively, wrap each half in plastic wrap, and place in freezer for up to 1 month. When ready to bake, remove plastic; bake on parchment-lined baking pan.)
Bake until deep golden, 20 to 25 minutes. Remove from oven, and transfer to a wire rack until cool enough to handle.
Using a serrated knife, carefully slice the roll into 1/2-inch-thick slices, and return to baking pan, cut-side down. Bake until golden throughout, about 10 minutes. Remove from oven, and serve warm or at room temperature.
Panettone French Toast Casserole
Got leftover panettone? Lucky you! The traditional Italian Christmas bread makes an excellent base for a breakfast casserole. All it needs is a soak in spiced custard and a turn in the oven.
What You'll Need:
1 1/4 pounds panettone, halved horizontally, then cut into 3/4-inch thick slices
8 large eggs
2 cups whole milk
Lactaid 100% Lactose Free Calcium Enriched Milk 0.5 Gal
1 teaspoon pure vanilla extract
1 teaspoon kosher salt
1/4 teaspoon ground cinnamon
1/4 teaspoon freshly grated nutmeg
Confectioners' sugar and maple syrup, for serving
Arrange bread in overlapping layers in a 2 1/2-to 3-quart baking dish. In a large bowl, whisk together eggs, milk, vanilla, salt, cinnamon, and nutmeg until thoroughly combined. Pour egg mixture evenly over bread; press with palms to fully submerge. Cover and let stand at room temperature 1 hour.
Preheat oven to 350 degrees. Bake until puffed, golden brown on top, and set, 45 to 50 minutes (if browning too quickly, tent with foil). Let stand 10 minutes, then serve, dusted with confectioners' sugar and drizzled with maple syrup.
Pavlova Wreath
Enchant guests (but keep things easy in the kitchen) with this ethereal wreath of pavlova puffs. Each segment of tender, silky goodness cradles a dollop of tangy cream and jewel-like fruit. Add sparkly sugar-encrusted cranberries, and this dessert is truly the fluff of dreams.
What You'll Need:
6 large egg whites, room temperature
2 cups and 1 tablespoon sugar, plus more for rolling
1 teaspoon distilled white vinegar
Colavita Aged White Wine Vinegar 17 Fl Oz
1 teaspoon cornstarch
1 teaspoon pure vanilla extract
1 1/2 cups fresh or partially thawed frozen cranberries
1 1/4 cups skyr or Greek yogurt
1/2 cup heavy cream
Pomegranate arils (seeds), red currants, and mint leaves, for serving
Preheat oven to 250 degrees. Trace a 10-inch-diameter circle on a piece of parchment with a pencil. Trace a 5 1/2-inch-diameter circle in center of larger circle. Place on a baking sheet, tracing-side down.
Whisk egg whites on medium-high speed until soft peaks form. Gradually add 1 1/2 cups sugar, beating until stiff peaks form. Beat in vinegar, cornstarch, and vanilla.
Transfer mixture to a large piping bag fitted with a large plain tip (such as Ateco #808). Pipe 10 evenly spaced mounds (each about 2 1/4 inches in diameter and 2 inches high) onto parchment in a circle, using traced ring as a guide. With the back of a spoon, create a hollow in each mound. Bake until ring easily lifts off parchment, about 1 hour, 10 minutes. Turn off heat; let stand in oven 1 hour.
Meanwhile, in a small saucepan, bring 1/2 cup sugar and 1/2 cup water to a boil. Add cranberries; return to a boil, then reduce heat and simmer 2 minutes. Let cool in liquid. Drain cranberries and transfer to a wire rack; let dry 30 minutes. Roll 3 tablespoons of individual berries in sugar to coat.
To serve, whisk skyr with heavy cream and remaining 1 tablespoon sugar until silky; divide among hollows in pavlovas. Garnish with sugared and unsugared cranberries, pomegranate arils, currants, and mint.
King Crab Appetizers
(Source: http://ow.ly/XBwm30gb32e)
What you'll need:
2 (12 ounce) packages refrigerated biscuit dough
1 (8 ounce) package cream cheese, softened
1 (6 ounce) can crab meat, drained
2 tablespoons mayonnaise
2 tablespoons Parmesan cheese
½ cup shredded cheddar cheese
2 tablespoons thinly sliced green onion
1 teaspoon Worcestershire sauce
1 pinch paprika
Preheat oven to 375 degrees F (190 degrees C). Lightly grease 12 tartlet pans.
Divide rolls in half and press into the prepared tartlet pans. Set aside.
In a large bowl, combine cream cheese, crab, mayonnaise, Parmesan cheese, Cheddar cheese, green onions and Worcestershire sauce. Spoon 1 teaspoon of mixture into tarts and garnish with paprika.
Bake at 375 degrees F (190 degrees C) for 15 to 20 minutes, or until light brown. These freeze wonderfully. Just reheat before serving.
Hot Artichoke and Crab Dip
(Source: http://ow.ly/Uq7R30gb4T0)
What you'll need:
1 (8ounce) package cream cheese, softened
1 cup mayonnaise
1 clove garlic, pressed
1 (14 ounce) can artichoke hearts in water, drained and chopped
¾ cup grated Parmesan cheese
1/3 cup chopped red bell pepper
1 teaspoon ground cayenne pepper
½ cup dry bread crumbs
2 teaspoons chopped green onion, or to taste
2 teaspoons chopped red bell pepper, or to taste
Preheat oven to 350 degrees F (175 degrees C).
Combine cream cheese and mayonnaise in a large bowl until smooth; stir in garlic. Gently stir artichoke hearts, crab, Parmesan cheese, 1/3 cup green onion, 1/3 cup red bell pepper, and cayenne pepper into cream cheese mixture.
Transfer the dip to a 9-inch pie dish and sprinkle top with bread crumbs.
Bake in the preheated oven until crumb topping is golden brown and dip is hot, 20 to 30 minutes. Garnish with 2 teaspoons green onion and 2 teaspoons chopped red bell pepper.
Yorkshire Pudding
(Source: http://ow.ly/UnYH30g1FDN)
What You'll Need:
¾ cup all-purpose flour
½ teaspoon salt
3 eggs
¾ cups milk
½ cup pan drippings from roast prime rib of beef
Preheat the oven to 450 degrees F.
Sift together the flour and salt in a bowl. In another bowl, beat together the eggs and milk until light and foamy.
Stir in the dry ingredients just until incorporated.
Pour the drippings into a 9-inch pie pan, cast iron skillet, or square baking dish. Put the pan in oven and get the drippings smoking hot.
Carefully take the pan out of the oven and pour in the batter. Put the pan back in oven and cook until puffed and dry, 15 to 20 minutes.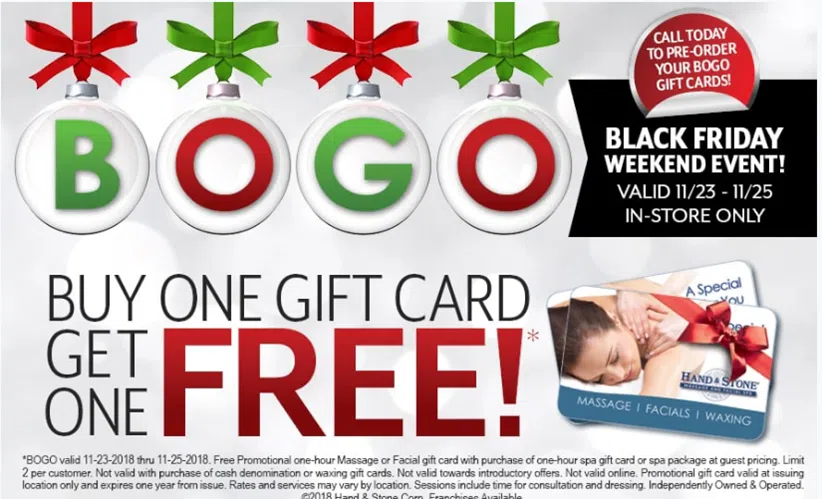 This Holiday Season, invite your special someone to unwrap and unwind with a luxury spa treatment. 
It's easy with Hand and Stone's BUY ONE GET ONE GIFT CARD OFFER – BLACK FRIDAY WEEKEND ONLY!
HAND AND STONE has 2 convenient locations:
UPPER ST. CLAIR (across from South Hills Village )
CRANBERRY (Rt. 228 near Target)
---
Gentilcore Jewelers will add  a special BRILLIANCE to your holiday this year! 
Discover stunning platinum, gold, silver, diamond, and gemstone jewelry at Gentilcore Jewelers. We offer a wide selection of high-quality fashion jewelry in unique designs. All jewelry is thoroughly inspected for quality and workmanship to ensure that our customers may buy with confidence.
Getting engaged?  Schedule an appointment with one of our diamond professionals to customize your engagement ring.  We offer wedding bands from traditional to modern styling, available with or without diamonds, in platinum, gold, cobalt chrome, titanium, and other contemporary metals.  All engagement rings we sell come with a complimentary appraisal for insurance
Precision Watches make a great holiday gift!  From the classic and iconic designs to innovative new technologies, we feature a variety of timepieces to fit your lifestyle. Discover a timeless gift for your loved one, or pick something up for yourself to help you stay on task throughout your busy day.
Our fine Sterling Silver and Pewter giftware can be custom engraved to best fit your occasion within 3 to 5 business days. We carry fine sterling silver and pewter giftware by Salisbury Pewter and Reed & Barton.
Visit us to see our amazing selection. Ask us about having something customized to uniquely show the one you love how you truly feel!
Contact us at:
1155 Freeport Road
Pittsburgh, PA 15238
412-782-2022
https://www.gentilcorejewelers.com/
---
If you're always trying to find a way to make your holiday decorations one-of-a-kind, why don't you just try making your own? We've compiled a list of D-I-Y decorations to help you put your own personal twist on your holiday décor without breaking the bank.
Glitter Christmas Trees:
Directions: http://ow.ly/Bn5n30gn7H
What You'll Need:
Styrofoam cones in various sizes
Spray adhesive
Glitter
Hot glue gun
Hot glue sticks
Cottage-Style Yarn Ball Wreath
Directions: http://ow.ly/qi6l30gn7R3
What You'll Need:
Bag of wooden skewers
18 inch craft foam wreath
Foam balls in a variety of sizes
Hot glue gun
Scissors
Handmade Holiday Cards
Directions: http://ow.ly/p7j330gn7Wd
What you'll need:
White card stock
Greeting Card Template
Color Printer
Scissors or paper cutter
Craft knife
Ruler or other straight edge
Cutting board
Aluminum foil HVAC repair tape
Colored Card Stock
Glue Sticks
Chopsticks
Easy DIY Snowglobes
Directions: http://ow.ly/MkwY30gn84L
What You'll Need:
Glass jar with lids
Mini ornaments or toys
Mini holiday themed accessories
Sprig of artificial tree or wreath
Hot glue gun
Hot glue sticks
Glitter
White foam floral ball (about 3-4 inch diameter)
Glycerin (Optional)
Melted Peppermint Candy Ornaments
Directions: http://ow.ly/JwsH30gn8gg
What you'll need:
Metal cookie cutters
Peppermint candies
Parchment paper
Toothpick
Ribbon
DIY Gift Toppers
Directions: http://ow.ly/Sbpq30gn8sO
What You'll Need:
Honeycomb paper
Hot glue gun
Hot glue sticks
Silver paint pen
Pencil
Paper straws
String
Small buttons
Yarn
Scissors
Coffee Filter Garland
Directions: http://ow.ly/jtbw30gn8zI
What you'll need:
Coffee filters (white and natural-colored ones)
Staples
Stapler
Small nail
Twine
Hanukkah Menorah Craft
Directions: http://ow.ly/RXWX30gn8Ld
What you'll need:
9 empty salt or pepper shakers
Decorative blue sand
9 menorah candles
Tweezers
---
Holiday Cocktails
Source: https://bit.ly/2C3RryW
Aged Eggnog Cocktail
PHOTO: COURTESY OF SALT AND WIND
If aged eggnog sounds off-putting, set your fears aside and just take a leap of faith on this one. Putting a gallon of this goodness in the refrigerator for a week or two lets the flavors mellow out, making the eggnog less sweet than the beverages you've tried before.
What you'll need:
12 large very fresh, high-quality eggs
1 3/4 cups unrefined cane sugar
1 quart (4 cups) whole milk
2 cups heavy cream divided
3 cups Irish whisky or Bourbon
2 cups dark rum
3/4 cup Cognac or Armagnac or Spiced Pear Liqueur
Pinch Sea salt
ice for serving
Freshly grated nutmeg for garnish
Instructions:
For the eggnog: Separate the egg yolks and white then place the egg whites in a very clean and airtight container and freeze until the eggnog is ready to serve. Combine the egg yolks and sugar in the very clean bowl of a stand mixer fitted with a whisk attachment and whisk until well blended, thickened, light yellow, and creamy. Whisk in all the milk and 1 cup of the cream until well mixed. Whisk in all the alcohol and a pinch of salt then transfer to a 1-gallon glass jar and tightly seal the lid. Place in the refrigerator for at least 10 days and up to 3 weeks.
Place the remaining 1 cup cream in the stand mixer bowl (no need to wash the bowl) and whisk on high speed until medium peaks form, about 1 minute. Remove to the punch bowl. Stir the eggnog base with a rubber spatula to re-combine, then add it to the punch bowl. Gently whisk the cream and egg whites into the eggnog until just combined and no large pockets of whites or cream remain (do not overwhisk or you'll deflate the eggnog). Serve in punch cups over ice, if desired, and garnished with grated nutmeg.
To serve: The night before serving, place the frozen egg whites in the refrigerator to thaw. Before serving, let the egg whites come to room temperature for at least 20 minutes. Place the egg whites in the very clean bowl of a stand mixer fitted with a whisk attachment. Whisk on high speed until stiff peaks form, about 2 to 3 minutes. Remove to a large punch bowl.
Sparkling Pomegranate Punch
PHOTO: COURTESY OF HALF BAKED HARVEST
What's not to love about a champagne cocktail when it's party time? This one packs a flavor punch with pomegranate juice, orange juice, apple cider, and orange bitters. And we can't help but adore that the candied rosemary looks like snow.
What you'll need:
2 cups pomegranate juice
1 1/2 cup orange juice
2 (12 ounce) bottles apple cider use non-alcoholic if desired
juice from 1 lemon
1 (750ml) bottle champagne or sparkling wine OR sparkling water/club soda for a non-alcoholic version
couple dashes of orange bitters
arils from 1 pomegranate
12 rosemary sprigs
1 cup granulated sugar
Instructions:
In a large punch bowl, combine the pomegranate juice, orange juice, apple cider and lemon juice. Stir to combine. Place in the fridge to chill until ready to serve.
When ready to serve, slowly pour in the champagne (or whatever you choose to use) and a couple dashes of orange bitters. Gently mix to combine and then add the pomegranate arils. Ladle into glasses. Top each glass with a sprig of candied rosemary (recipe below). Alternately, you can ladle the punch into glasses before adding the champagne and then top each glass with champagne and pomegranate arils.
CANDIED ROSEMARY
Line a baking sheet with parchment paper.
Gently run the rosemary under a little water to dampen it and place on the prepared baking sheet. Sprinkle the rosemary with sugar on all sides, making sure the rosemary is throughly coated in sugar all around. Allow to dry on the baking sheet for 1 hour. The rosemary can be made 1 day in advance and stored at room temperature.
Candy Cane Cooler
 What you'll need:
1 tablespoon crushed candy cane or peppermint candy
1 1/2 ounces Mint-Infused Vodka, recipe follows
1/2 ounce B&B (Benedictine and brandy)
1/2 ounce half-and-half
Ice
Peppermint stick
Mint sprig for garnish
Mint-Infused Vodka:
2 cups fresh mint leaves, de-stemmed
1 bottle quality vodka
Instructions:
Thoroughly wash mint leaves and place in a decanter or jar. Empty vodka into container and muddle slightly to release the essential oils. Store in a cool, dark place for at least 3 days – longer if you want a stronger taste.
Place crushed candy cane bits into pint glass. Muddle the candy cane slightly, breaking up the bigger pieces. Do not over-muddle into a powder. Add vodka, brandy and half-and-half and stir. Pour into a shaker with ice. Shake lightly to chill and strain into old-fashioned glass full of ice. Add a peppermint stick and stir. Garnish with a mint sprig.
Peppermint Hot Chocolate
What you'll need:
1 1/2 cups heavy cream
1 1/2 cups milk
1/4 cup sugar
1/8 teaspoon salt
6 ounces bittersweet chocolate, chopped
3 drops peppermint oil
Sweetened whipped cream, for garnish
Chocolate shavings, for garnish
Instructions:
In a saucepan, combine the cream, milk, sugar, and salt and heat over medium-low heat. When the cream mixture just begins to steam, add the chopped chocolate, and stir, until melted. Stir in the peppermint oil. Divide the hot chocolate among mugs and top with whipped cream and chocolate shavings.
Presented by:
Sponsored by: